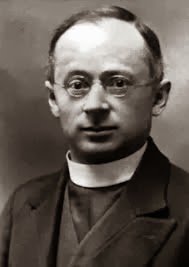 Father Otto Neururer (1882 – 1940), an Austrian Roman Catholic parish priest in the town of Götzens 
became the first priest to die in a Nazi concentration camp.
 He had advised a young girl not to marry a divorced man of questionable reputation. Unfortunately that divorced man was a close, personal friend of the Nazi party leader in the area.  Neururer was subsequently arrested by the Gestapo on December 15, 1938 for 'slander to the detriment of German marriage.'  He was jailed first in Innsbruck, then Dachau, and in September 1939 transferred to Buchenwald.