Katrina Shawver is available in-person and via video-conference for book clubs, book signings, book festivals, and any other speaking engagements.  Special gifts for book clubs!
For 2019-2021, Katrina is a Road Scholar (speaker) through Arizona Humanities, the Arizona affiliate of the National Endowment for the Humanities. This program serves any requesting organization throughout Arizona. To request a presentation through Arizona Humanities, click here.
Please contact Katrina directly here.
Postponed due to the COVID virus. Maricopa County Library Council Continuing Education Committee, Phoenix Public Library, Burton Barr branch, 1221 N Central Ave, Phoenix, AZ 85004.
Previous Appearances
February 19, 2020, Reading, El Charro Hipster Bar and Cafe, Phoenix, AZ
February 12, 2020, Phoenix Legatus Chapter, private event
February 2, 2020, Local Author Book Sale, Scottsdale Public Library,  Scottsdale AZ
December 4, 2019, Chandler Sunset Public Library, Chandler AZ November 6, 2019, Mohave Community College, Bullhead City, AZ
November 2, 2019, Local: Author Fair, Phoenix Public Library
October 26, 2019, Herberger Theater Festival of the Arts,
October 17, 2019, Book Club – Saint Barnabas on the Desert Episcopal Church, Scottsdale, AZ.
September 24, 2019, Allentown Public Library, Allentown, PA
September 22, 2019, Polish American Arts Association, Washington, DC
September 20, 2019. Private book club event. Alexandria, VA.
August 13, 2019, Desert Foothills Library, Cave Creek, AZ
June 26, 2019 – Scottsdale Society of Women Writers, Scottsdale, AZ.
June 24, 2019 – Writing Workshop "Expand Your Writer's Toolbox." Changing Hands Bookstore, Phoenix AZ
June 12, 2019 – Scottsdale Public Library, Scottsdale, AZ
March-April-May, 2019 – Writer in Residence, Glendale Public Library
April 29, 2019 – Private book club event
April 22, 2019 – ORT-America (Organizational Rehabilitation Training), Phoenix, AZ
April 6, 2019 Arizona Historical Novel Society, Scottsdale, AZ.
March 30, 2019 – AAUW Book Festival and Fundraiser
March 28, 2019 – Private book club event
March 27, 2019 – Private book club event
March 13, 2019 – Chandler Public Library, Chandler AZ
March 2, 2019 – Tucson Festival of Books
March 3, 2019 – 16th Annual Polish Festival, Phoenix
February 2, 2019 – Scottsdale Public Library (AZ), Local Author Day.
February 9, 2019 – Tempe Public Library (AZ)
December 1, 2018 – KJZZ Holiday Story Fest and Authors Showcase, Glendale AZ
November 17, 2018 – Mesa Public Library – Red Mountain Branch
November 15, 2018 – Sun Lakes Jewish Congregation Sisterhood, Sun Lakes, AZ
November 3, 2018 – Tempe Book Festival, Tempe Public Library, Tempe AZ.
October 10, 2018 – Foothills Library – Glendale Public Library,
Glendale, AZ
October 18, 2018 – New Frontiers for Lifelong Learning, Mesa Community College, Mesa, AZ
September 10, 2018 – Kopernik Memorial Association of Central New York, Whitesboro, NY
September 12, 2018 – Polish Legacy Group, Canisius College, Buffalo, NY
September 13, 2018 – Professional and Business Women of Polonia, Cheektowaga, NY
September 17, 2018 – Buffalo & Erie County Public Library, Audubon Library, Amherst, NY
August 27, 2018 – Ahwatukee Foothills Friends & Neighbors (AFFAN), Phoenix, AZ
June 14, 2018 – Mountain Park Senior Living, Phoenix AZ
June 14, 2018 – Writing Workshop "Bringing Someone Else's Story to Life, Changing Hands Bookstore, Tempe, AZ
April 18, 2018, Phoenix Public Library, Ironwood branch, Phoenix Arizona
April 9, 2018 – Genocide Awareness Week, Scottsdale, Arizona
March 28, 2018 – Olympia Timberland Library, Olympia Washington
March 27, 2018 – Shelton Timberland Library, Shelton Washington
March 26, 2018 – Third Place Books – Seward Park, Seattle Washington
March 25, 2018 – Third Place Books – Ravenna, Seattle Washington
March 23, 2018 – Village Books & Paper Dreams, Bellingham, Washington
March 21, 2018 – Tacoma Public Library, Tacoma Washington
March 11, 2018 – Tucson Book Festival, Tucson Arizona
March 6, 2018 – Sun Lakes Jewish Congregation Men's Club, Sun Lakes, Arizona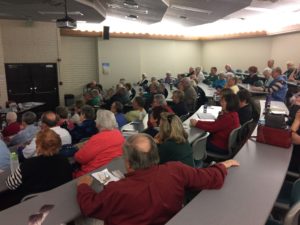 February 26, 2018 – New Frontiers for Learning, Mesa Arizona
February 19, 2018 – Brandeis National Committee – Phoenix Chapter
February 5, 2018 – Veterans Caucus, Arizona House of Representatives
January 27, 2018 – Peregrine Book Company, Prescott Arizona
January 4, 2018 – Barnes & Noble, Scottsdale Arizona
December 9, 2017 – Mesa Book Festival, Mesa Arizona
December 8, 2017 –  Dog-Eared Pages Used Book Store, Phoenix Arizona
November 28, 2017 – Book Launch & Signing, Changing Hands Bookstore, Tempe Arizona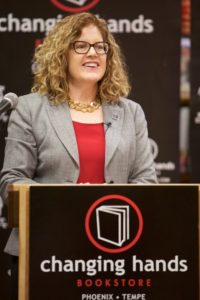 November 18, 2017 – Barnes & Noble, Book Signing, Chandler Fashion Mall, Chandler Arizona
November 2, 2017 – East Valley Jewish Community Center, Chandler Arizona
"I was absolutely enthralled by your breadth of knowledge and delightful personality!"
October 26, 2017 House Veterans Caucus, Arizona State Legislature
"It was a pleasure to have Katrina speak to the Veterans Caucus and share her deeply moving story," said Representative Lawrence.
 June 17, 2017 – Phoenix Writer's Club, Phoenix, AZ
      "Writing Someone Else's Story"
"Great interaction with the audience. You made it relatable."
October 7, 2016 – Dog-Eared Pages Used Books  Phoenix, AZ
      "Writing Someone Else's Story"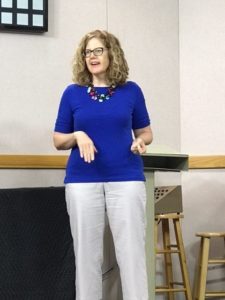 July 18, 2015 – Phoenix Writers Club, Phoenix, AZ
"Very interesting presentation and good presentation. Your passion for this should set up a best seller."
"Incredible research! Great speech. Amazing and effective visuals."
April 15, 2015 – Scottsdale Community College Genocide Awareness Week 2015
      "Poles as Victims and Heroes under Hitler and Stalin"
"Your entire presentation was so meaningful, comprehensive, captivating and from the heart."
April 2 & 7, 2015  – Phoenix College
   "Poles as Victims and Heroes under Hitler and Stalin"
Video – Changing Hands Bookstore, Book Launch, November 28, 2017