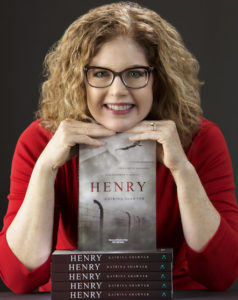 Katrina Shawver met Henry Zguda when she wrote for the newspaper, and after one meeting offered to write his story. This true story is both a witness to the Holocaust through Polish eyes and the story of how a Polish (Catholic) competitive swimmer survived Auschwitz and Buchenwald concentration camps during World War II by his wits, humor, luck, and friends. This view of the Holocaust through Polish eyes fills a huge gap in historical accounts of Poles during WWII. The book includes a readers guide and original photos and documents, many in print for the first time.
"Everyone who reads Henry becomes a witness."––Jack Mayer, author of Life in a Jar: The Irena Sendler Project and Before the Court of Heaven
"Through all his hardships Henry Zguda never lost hope or his sense of humor which is present throughout the book. This is a much-needed addition to your library." —The Polish American Journal
Available most online booksellers. Click below to order.

AWARDS
2018 IBPA Benjamin Franklin Award – Silver for Biography
2017 The Wishing Shelf Book Awards (UK) – Gold for Adult Non-Fiction
2018 Reader Views Literary Awards – Winner in Four categories:
First Place Biography, First Place Regional, Best Nonfiction Book of the Year,
Best Regional Book of the Year
2018 Feathered Quill Book Award – Second-Place for Historical
2017 Advice Books (Italy) – Voted Best of 2017Save
Save
Save
Save
Save
Save
Save
Save
Save
Save
Save
Save
Save
Save
Save