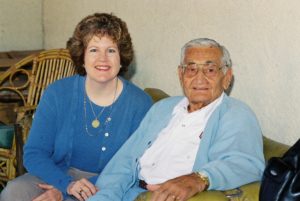 When Katrina Shawver met the eighty-five year old Henry Zguda, he possessed an exceptional memory, a surprising cache of original documents and photos, and a knack for meeting the right people at the right time. Couched in the interview style of Tuesdays with Morrie, Henry relates in his own voice a life as a champion swimmer, interrupted by three years imprisoned in Auschwitz and Buchenwald as a Polish political prisoner. With a pragmatic gallows humor, and sense of hope, he showed the author how to truly live for today, preferably with a shot of good Polish vodka. Henry's path of resiliency and power of connection are as relevant today, as they were in World War II.
HENRY: A Polish Swimmer's True Story of Friendship from Auschwitz to America, released November 1, 2017, continues to garner praise and awards.
Reader Views 2017-2018 Literary Awards: Finalist in Biography/Memoir and Nominated for Regional, Global and Other Special Awards.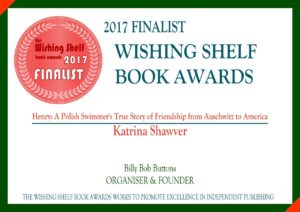 Finalist in the 2017 Wishing Shelf Book Awards Program.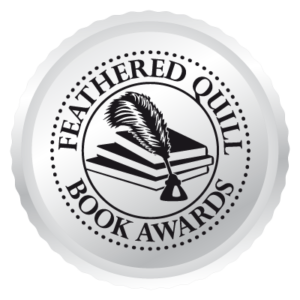 2018 Feathered Quill Book Awards Program, Second Place for the Historical category
Advices Books (Italy) – Best Book Read in 2017 – Category New Authors
The Consulate General of the Republic of Poland in Los Angeles has added HENRY to its list of Books From Poland and About Poland in English – the first such addition since 2014.
PLEASE HELP SPREAD THE WORD
– Tell your friends – Word-of-mouth is the best way to let people know
– Contact your local library and request they add HENRY to their collection
– Post a review online –  A review can be two words, such as "Loved it" or "Definitely recommend." I'm including the links below for your convenience. Reviews are critical for online algorythms to rank HENRY as a recommended book and alert others it's a good read.
– Recommend HENRY to your book group. I love speaking to book groups.
Review on Amazon (even if you didn't purchase there) Click here
Review on GoodReads  Click here
Save
Save
Save
Save
Save
Save
Save
Save
Save
Save
Save
Save
Save
Save
Save