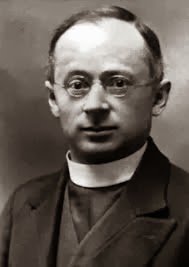 Father Otto Neururer (1882 – 1940), an Austrian Roman Catholic parish priest in the town of Götzens 
became the first priest to die in a Nazi concentration camp.
 He had advised a young girl not to marry a divorced man of questionable reputation. Unfortunately that divorced man was a close, personal friend of the Nazi party leader in the area.  Neururer was subsequently arrested by the Gestapo on December 15, 1938 for 'slander to the detriment of German marriage.'  He was jailed first in Innsbruck, then Dachau, and in September 1939 transferred to Buchenwald. 
When transferred to Buchenwald, he faced additional torture, but continued to minister to other prisoners, including offering communion when he could. One day a prisoner approached him and asked for help (baptism) in coming back to the church. Though he suspected an informant he felt he couldn't refuse the request.  Two days later he was brought to the detention block.
Under the direction of the sadistic jailer Martin Sömmer, Neururer was hung from his ankles until he died 34 hours later, on May 30, 1940, nearly a year after Pastor Schneider died from torture.
In 1996 Pope John Paul II beatified him. His feast day is August 13. 
There is a detention cell devoted to his memory as well.  However – my photos came out too blurred to use. 
Photo courtesy of Wikipedia.