I began a different post for March. March is Women's History Month and I debated who, of so many remarkable women in the world, to highlight. The world chose for me. A post on Ukrainian culture is my nod to the courage and perseverance of the Ukrainian people as they defend their country.
Youth Symphony Orchestra of Ukraine
Oksana Lyniv founded the Youth Symphony Orchestra of Ukraine in 2016. The YsOU showcases talented musicians between the ages of 12 and 22, who come from all regions of Ukraine. The Ukrainian Youth Symphony Orchestra thus not only serves to promote young musicians, but is also a project supporting peace in the country. Watch their five-year anniversary project performed less than a year ago on April 7, 2021. See below for concert video.
DakhaBrakha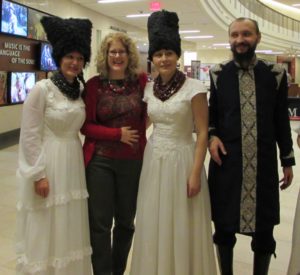 The cultural phenom musical group, DakhaBrakha, is a world-music quartet from Kyiv, Ukraine. Founded in 2004 at the Kyiv Center of Contemporary Art, this band combines elements of Arabic, African, Russian and Australian traditional instrumentation for a unique sound that is hard to categorize. Since their founding, the group has traveled the world to perform. In 2014, they performed in Phoenix at the Musical Instrument Museum. Intrigued, my husband and I went to their concert. Since I don't speak Ukrainian, I have no idea what they sang about, but the sound is clearly their signature interpretation of Ukrainian music. Check out the original post from 2014 for more details. Click here.
UNESCO
UNESCO, the United Nations Educational, Scientific, and Cultural Organization, lists seven properties in Ukraine on the World Heritage List. You can check out the list here. Click here.
Twenty-two top memorable sites in Kiev
The travel site Culture Trip lists twenty-two top sites to visit in Kiev. I post the link as a great curated list of memorable sites in Kiev, not as an endorsement of Culture Trip over any other travel company, or the idea anyone is planning travel there in the near future. The article is dated May 2021, so is current. The list includes botanical gardens, palaces, churches, and other historic sites. My hope is that all of these survive the current assault on Ukraine. Click here for the full list.
Outstanding Women in Ukrainian History
Ukrainian American Media: Outstanding women in Ukrainian history. Click here.
Culture Trip – The most inspiring women in Ukrainian history. Click here.
Author's Note: As I write this post, events continue to unfold in the war against Ukraine. I applaud the people of Ukraine who stand ready to fight for and defend their country, as I watch scenes unfold on newsreels as if I am viewing Poland in the fall of 1939. As of this writing, Poland has taken in more than 500,000 Ukrainian refugees, mostly women and children. (These numbers will change daily.)
#Ukraine #kiev #kyev #lviv #poland #visualUkraine #Ukrainian #beautifulUkraine #peacenotwar #DakhaBrakha