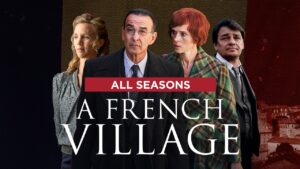 The French television series The French Village is a must-watch series. I am addicted to this show, and trying to ration my binge-watching so it doesn't end. Thankfully, there are seven seasons, and I am only halfway through Season 4. There are so many reasons this show is excellent, entertaining, and significant. The show takes place in the fictional French village of Villeneuve and begins in June 1940 on the day Germany invaded Franch.
Complex Characters and Complex Issues
Over the course of the show, we meet a broad range of characters such as the town's doctor Daniel Larcher, and his conflicted relationship with his communist brother Marcel Larcher. Many World War II shows make the mistake of portraying Germans and Nazis as stock evil characters, which makes for a stereotypical story that lacks depth and ignores the human beneath the uniform. In The French Village every character is both flawed and human, even the ones you love or hate. True to time, they evolve in motives and character as the war drags from one year into the next. I am vested in every character and am transported back in time.
War is never black and white, nor is life. There's romance between German soldiers and French women, police collaboration with the Germans, the Resistance movement, competing politics, arrest of the town's Jews, hiding of Jews, and the moral choices everyone faces during occupation and war. The real draw of the show is the people, their lives, their lovers, their failures, their parties, and their loyalties. Every episode ends with a cliffhanger that keeps me coming back.
The Impact of Historical Accuracy
The French Village honors historical accuracy down to every detail. At the end of Seasons 1-3, there are short historical vignettes filmed with real survivors of the Resistance, and a French historian who reviews the French experience in every way, all of which the series touches on. At least two actors have direct family ties to WWII and the Holocaust.
Thierry Godard, who plays Raymond Schwartz, had relatives who fought in the French Resistance. Richard Sammel, who plays the despicable Heinrich Müller was born in Heidelberg, Germany in 1960, and is also fluent in French, making him a perfect German in occupied France. In a YouTube interview, he relates that one grandfather was an ordinary German soldier who died in a prison in Siberia. His father's father was a prisoner in Buchenwald, not as Jewish, but as a German citizen.
The most exceptional quality of this show, and its historical importance, is that it faces and presents the full extent of French collaboration with the Germans. During World War II, the French Vichy government adopted a strong authoritarian policy of German collaboration and strongly promoted anti-Semitism. French police helped deport more than 72,000 Jews. Per an article in the Smithsonian magazine, November 9, 2017, "Before the Nazis ever demanded the Vichy government participate in anti-Semitic policies, the French had enacted policies that removed Jews from civil service and began seizing Jewish property."
Where to Watch The French Village
Season one of the series runs on Amazon Prime. To watch the full series, you'll have to subscribe to MHz Choice, a streaming service for foreign and international content. The $8.49/month subscription is worth every penny to access this show. Click here for link to the show.
Anyone with an interest in World War II will love this show. If you decide to watch, let me know your thoughts. No spoilers please if you get ahead of me. I'm savoring every episode.