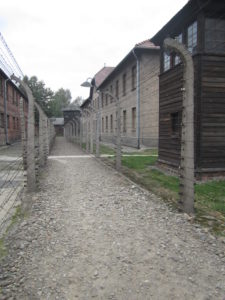 The first transport of 728 Polish prisoners arrived at Auschwitz eighty years ago, on June 14, 1940.  In honor of those first Polish prisoners, I want to highlight what may seem incongruous to many: music in Auschwitz. Two recent reports highlight Polish political prisoners who composed music at Auschwitz. It's fascinating history, and a reminder that even in the darkest of places, the human soul  can stay alive through the power of music.
Music in the Camps Served Multiple Purposes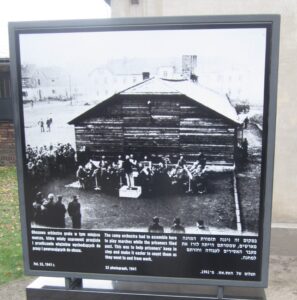 Music served two main purposes: play for prisoners as they leave (rather trudge) out the gates to work details, and again at the end of the day. The Germans wanted the prisoners to feel "lively." Yeah, right. On Sunday afternoons, prisoner orchestras entertained the SS officers and their families. Every main concentration camp had a band or orchestra.
Music played a more insidious role in some places: deception and calming incoming prisoners. In other camps, incoming prisoners might be met with classical music or a lively polka upon arrival. If you step down from a train and hear the music, besides being disoriented, how bad could it be, right? 
For musicians lucky enough to secure a place in a prisoner orchestra, they had a solid chance at survival. Instead of outside work crews, they spent hours inside at rehearsals or performing. All prisoners endured at the mercy of capos and guards, so no one was truly safe. Musicians in a prisoner orchestra generally had a longer life expectancy than the regular prisoner.
Primo Levi, in his volume of The Voice of Memory recalled that when he was deported to Auschwitz in 1944,  his arrival at this 'fearful and unknown world' was greeted with the camp orchestra playing Rosamunda. Americans will recognize this as the Beer Barrel Polka.  In English the chorus goes like "Roll out the barrel, we'll have a barrel of fun. Roll out the barrel, we've got the blues on the run." I can't imagine how disorienting and confusing that welcome would be.
60 Minutes Segment on Music of the Holocaust highlights Two Polish Composers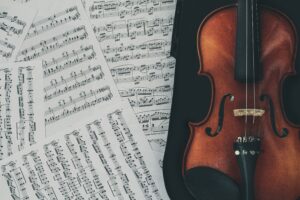 60 Minutes recently aired a wonderful piece on lost music of the Holocaust. It is excellent if you can hang in through the first two minutes of commercials and one in the middle. An Italian musician has spent much of his life locating, resurrecting and performing these works. 
Beginning at 13 minutes, he highlights two Polish musicians and prolific composers in Auschwitz: Jozef Kropinski and Aleksander Kulisiewicz.
Click here to watch. Definite recommend.
The Auschwitz-Birkenau Memorial and Museum recently traced three Polish composers
One recently discovered manuscript, or score, is an upbeat foxtrot entitled Die Schönste Zeit des Lebens, or "The Most Beautiful Time of Life." The irony of such a composition and title is obvious. Of the three composers, two mentioned their prisoner number, 5665 Antoni Gargul, and 5131 Maksymilian Pilat, two Polish political prisoners. A third composer, presumed Polish, remains anonymous. This short video is a good summary of their story. I love that the University of Michigan is researching and performing the work. The video is well worth the watch if you have five minutes.
Poles were the First Prisoners in Auschwitz and the Majority of prisoners until 1942
Auschwitz remains a place of unspeakable horror for more than a million souls. However, when it was first built, it was designed as a concentration camp to help alleviate overcrowded prisons. It was not designated as a death camp or large killing center until 1942, when the large Auschwitz II, or Birkenau was constructed. More than 150,000 Poles were sent to Auschwitz, more than half died there by execution, starvation, disease, or hardship. The numbers might be higher if the Germans hadn't transferred thousands of Poles in 1943 to other camps in Germany.
Out of 728 prisoners deported to KL Auschwitz on 14 June 1940 from Tarnów, 298 survived the war, 272 perished, and the fate of 158 of them remains unknown. Kazimierz Albin, the last witness of the first transport, passed away on 22 July 2019.
June 14 is commemorated in Poland as the National Day of Remembrance of the Victims of German Nazi Concentration Camps and Extermination Camps
Links for more information:
 Events Commemorating June 14 with National Patronage of the President of thee Republic of Poland.

Poles in Auschwitz (Auschwitz-Birkenau Memorial and Museum)
"Auschwitz had a wonderful orchestra" – Earlier post