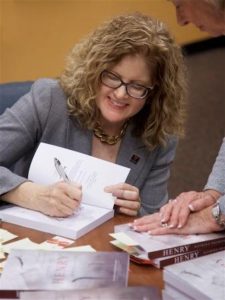 In the first three months after publication, fantastic things are happening for HENRY: A Polish Swimmer's True Story of Friendship from Auschwitz to America. I am proud to report many highlights and successes and remain hopeful for more. With publication of the book, Henry Zguda's story is now out in the world as both a powerful witness to the Holocaust and a testament to what so many Poles suffered during WWII. May neither be forgotten. Henry – we did it! Na zdrowie!
Note – Some of this information has been previously posted to Facebook and Twitter which I recognize not everyone uses. Even then, Facebook has become especially vexatious in deciding who sees what. This website remains the best and most complete source of information. So here goes.
In January, the Consulate General of the Republic of Poland – Los Angeles added HENRY to its website under Books on Poland. They also posted HENRY to their Facebook feed. This is an especially high honor and validation as it is the first book added to the list in four years. Read here.
Advice Books, an Italian book review site, awarded HENRY Best Book of 2017. "Prize to Katrina Shawver for writing another important and touching witness about the deportation to Auschwitz during the Holocaust." Read here.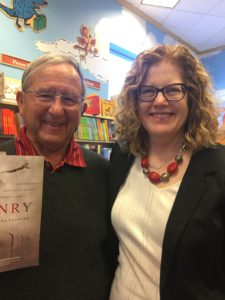 On a fun note, I participated in an author panel at a nearby Barnes & Noble in early January. Mutliple people showed up with copies of HENRY  for me to sign – they had already read the book, some in their book group. HENRY is now shelved as a Reading Group Favorite in the store. Thank you Phyllis!
Libraries in Arizona, Florida, and Washington state have added HENRY to their collections. This includes the Arizona Talking Book Library for the blind and disabled who qualify. More are pending.
HENRY continues to garner media attention. Follow links to read about HENRY in: The Polish American Journal, the Am-Pol Eagle (Buffalo, NY), The Daily Courier (Prescott AZ), and The Ahwatukee News (October 25, 2017 & January 17, 2018).
In January more than 1700 people in five countries entered a giveaway for a free signed copy of HENRY. More than 1200 people have marked HENRY as a "To-Read" book on Goodreads.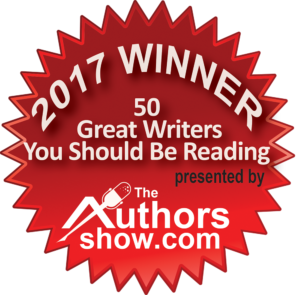 In November, I was a winner in the 50 Great Writers You Should Be Reading, contest by TheAuthorsShow.com.
Book reviewers in the UK, Italy, Poland, and the US have all praised HENRY and shared this praise with their social media followers. Click here for link to Praise here.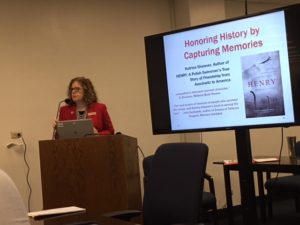 On February 5, I will present to the Veterans Caucus at the Arizona House of Representatives. I gave this presentation in October. They have invited me back to give the same presentation now that the Legislature is in session.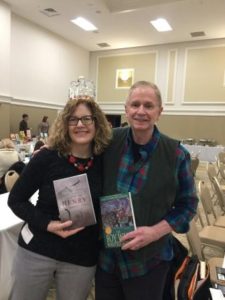 On a totally you-had-to-be-there note, in January I attended the Pulpwood Queens Girlfriend Weekend in Texas. Tiaras preferred. I connected with James Conroyd Martin who I profiled in November. Did I mention Pulpwood Queens is the largest book club in the world, with 725 chapters in 15 foreign countries and growing? Founder Kathy L. Murphy definitely knows books.
I will be a featured speaker at multiple events this spring including the Genocide Awareness Conference at Scottsdale Community College; the Brandeis National Committee – Phoenix Chapter; New Frontiers for Learning, and the Tucson Book Festival. Click here for full list of appearances. (Updated regularly.)
Drumroll. Announced here for the first time, I'm going on a book tour to Washington State in late March 2018. If you are in Washington, or know someone in the Northwest, please share this information. I will post more info as the time draws closer. Confirmed events include:
March 23, 2018 @ 7:00 pm Village Books and Paper Dreams, Bellingham WA
March 25, 2018 @ 7:00 pm, Third Place Books, Seattle WA (Ravenna location)
March 26, 2018 @ 7:00 pm Third Place Books, Seattle WA (Seward Park location)
March 27, 2018 @ 6:00 pm – Shelton Timberland Library, Shelton, WA
March 28, 2018 @ 7:30 pm – Olympia Timberland Library, Olympia, WA
Date TBD, King's Books, Tacoma WA
Dear Reader, thank you for reading HENRY and sharing it with your friends and book groups. If you read HENRY, and enjoyed it, please post a positive review online (use links below,) even if it is only two words such as "Loved it" or "Definitely recommend."  If you have posted a review already, thank you! Reviews are one of the first things potential readers and reviewers look for. Thanks also for telling your friends, book groups, and local library that HENRY is a great read.
Review on Amazon (even if you didn't purchase there) Click here
Review on GoodReads  Click here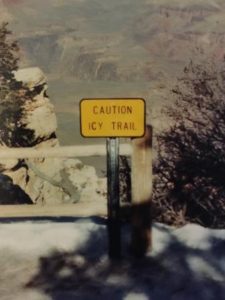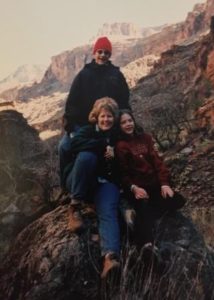 This journey to publication began fifteen years ago with the crazy idea to "write a book." The thing with dreams is this – it's better to dream big first, and then figure out how to get there. If you believe in it, you'll find a way. I often think of each time I've hiked the Grand Canyon. Going down is easy. It's getting out of the canyon that requires the most work. The answer is this – keep putting one foot in front of the other until you get to the top, no matter how long it takes or how slippery the slope. No one will ever take that experience away from you. May all your dreams for 2018 come to fruition.
In gratitude,
Katrina
Sign up here to receive ongoing
insights and updates: