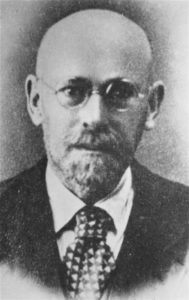 The story of Janusz Korczak (1878 – 1942), a Jewish pediatrician, author and champion of children's rights is one of courage, conviction and sacrifice. Korczak established a Jewish children's orphanage in Warsaw around 1919 and remained its director until his death. After war broke out, the Germans forced the orphanage to move into the Warsaw Ghetto in 1940. On August 5, 1942, the Germans came to deport the more than 190 orphans to the gas chambers of Treblinka. Korczak, along with this staff, refused to abandon the children. All were murdered upon their arrival at Treblinka, August 7, 1942.
Janusz Korczak, the pen name coined by Dr. Henryk Goldszmit, had a popular radio program during the 1930's that championed children's rights. He was renowned in Poland as a teacher, physician and writer and had quite a bit of name recognition. He pioneered teaching methods such as self-government by the students. He wrote imaginative children's books; his 1933 children's novel Kaytek the Wizard was just published in English in 2012. In the Ghetto he was not afraid to talk back to the Gestapo, even at risk to himself. He repeatedly visited the richer Jews in the Ghetto and anyone else he could, asking for funds, food and help for his orphans.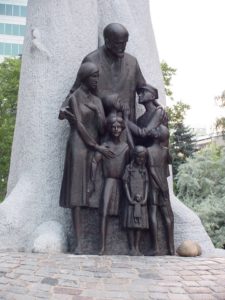 The orphans' exit from the Ghetto was remembered by many witnesses. Władysław Szpilman, in his book The Pianist wrote "He told the orphans they were going out in to the country, so they ought to be cheerful. At last they would be able to exchange the horrible suffocating city walls for meadows of flowers, streams where they could bathe, woods full of berries and mushrooms. He told them to wear their best clothes, and so they came out into the yard, two by two, nicely dressed and in a happy mood. The little column was led by an SS man…"
I just finished a new novel, The Book of Aron by Jim Shepard that came out in May 2015. A friend gave it to me as a gift, and it's the Warsaw Ghetto through a child's eyes, who encounters Janusz Korczak. If you're interested in that piece of history, I think of it as similar to The Book Thief.
The 1990 Andrzej Wajda film Korczak is available on Netflix. It's Polish with English subtitles, and is well worth the watch.
Portrait of Janusz Korczak, Photo 65010, United States Holocaust Memorial Museum
Photo of statue in Warsaw in public domain, credit to "Warszawa pomnik Janusz Korczak 02″ by Jan Bohdan Chmielewski – Own work/Piotr Biegała – HeAVenlY. Licensed under Public Domain via Wikimedia Commons.