Amazing people are all around us.  Maybe it is the person bagging your groceries, flipping burgers, or hiking the same mountain. Meet three role models for aging well I will always remember. These folks live life well by staying engaged with others, following their passion, and moving for as long as possible.
Loving his job at 97
I met Hal four years ago during a grocery run to Safeway. He chatted as he bagged my groceries and helped me haul them to my car.  He mentioned with a smile he is the oldest employee there, as he easily hefted my bags of groceries into my car. I guessed him to be in his seventies.
Intrigued, I paused to chat. He said "I'm ninety-seven years old and I've had a wonderful life. I have three different retirements. I don't need the money. I live alone and get bored if I sit at home. Here I talk to people all morning."
Hal is a retired Navy pilot. He earned his wings a week before Pearl Harbor. He was shot down once without a scratch. He worked for NASA as a test pilot and taught two kings to fly including King Hussein. I believe every word he told me. When I posted this story to Facebook, I was surprised how many other people also knew Hal and shopped when he worked. Clearly, he made an impression on most people he met. I asked, but he said there is already a book on his life story in the works.
I might have talked longer but the ice cream began to melt. I smiled all the way home. After that, I made a point to shop more often on Wednesday mornings, when I knew Hal would be working. I haven't seen Hal for a while, but I will always remember his example to keep living and smiling no matter what age you reach.
Orderville Casket Company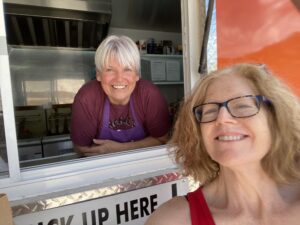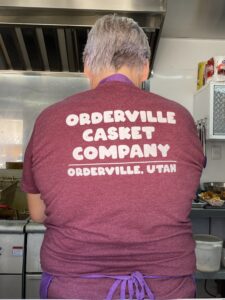 Last summer, my husband and I took a drive to the north rim of the Grand Canyon. After that, we drove through Orderville, Utah on our way north. Hunger pangs signaled the need for lunch. Soon. We drove past a Subway on the edge of town, packed with a tour bus full of people waiting for food. We risked no more restaurants and kept driving.
Ten minutes later we spied a small sign on the ground that read "Archie's Food to Die For." The sign was so small we had to pull a U-turn. A small food truck barely visible from the street took the dying theme seriously. Skeletons decorated everything.
This was our last chance for food, so we ordered burgers, somewhat skeptical. After paying, I moved to the pick-up window, where the cook flipped sizzling burgers with her back to us. Her T-shirt read "Orderville Casket Company."
Meet Stacie. She turned around, leaned on the counter, and beamed a big smile.
"Hon, my husband and I built caskets for thirty-five years. Then it got so I just couldn't haul and lift all that wood. So, I opened my dream business, this food truck. I kept the business name since I already had the business. I call it one-stop shopping, from cradle to grave. It's named after my favorite dog, Archie, because I have too many grandchildren to keep track of. Right now, there's nothing else I would rather do."
Ps. The food was way better than Subway fare. I bought a T-shirt for the next time I have guests over for dinner.
Still hiking at 85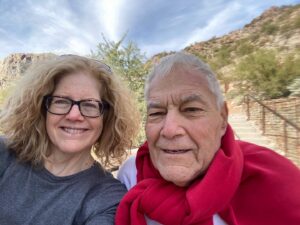 In December I hiked a local mountain that is considered steep and difficult. I try to hike it every winter to say I still can. I occasionally see people in my age range on the trail, but not many. It's a short, steep, forty-five-minute climb to the top. The view from the top is a well-earned, gorgeous 360-degree view of Phoenix. It's worth it.
On the way down I passed an older gentleman carefully stepping over rocks with his trekking poles. I judged him to be in his eighties, an impressive age for this mountain, and the oldest hiker I have encountered. I waited for him at the bottom of the trail, fascinated to learn this man's story. I congratulated him for completing the trail, and asked if he minded sharing his age.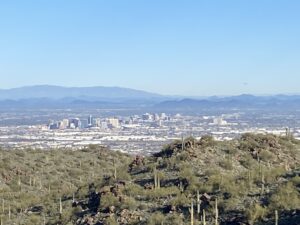 Meet Frank. "Not at all. I am eighty-five-years old, and I have hiked this mountain three thousand times since 1982. I used to hike it three times a week, but I've had to slow down. Now I only hike it twice a week. I don't have any friends who can do this, and I can still move around compared to them. Exercising inside just isn't the same. I feel great."
Count me impressed, humbled, and motivated to keep moving as I age.
It pays to stop, look, and notice the people around you. Everyone has a story worth sharing, at any age.