Fresh eyes can find the hidden treasure right in front of us. How often does someone else notice details that you somehow miss? It happens to me all the time.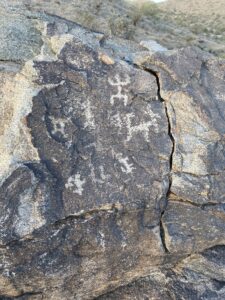 I live near several mountains that are good for short hikes. I have hiked several of them for years. They are my outdoor treadmills, an alternative to working out in the gym. I have my 45-minute trails, one-hour trails, and two-hour trails, each of varying difficulty. I use the time to collect my thoughts, listen to audio books, and breathe in fresh air and desert vistas. Two weeks ago I took a friend, and she paused at several rocks I routinely pass by.
There, right in front of me, faded and ancient petroglyphs stared back at me, one from an underside, another from the back side of the rock. Petroglyphs are images created by carving the rocks by pecking directly on the rock surface using a stone chisel and a hammerstone. They vary from several hundred years of age to thousands of years. In Phoenix, they are left primarily by people of the Hohokam prehistoric culture.
Wow. For the remainder of the hike, we passed by several more sets of petroglyphs I'd never noticed, but that my friend pointed out. I saw the same rocks, but had not looked at all sides, and thus did not see what she did.
Before finishing my book, I sent sections out to various 'beta' readers to review and comment. The feedback was invaluable because others thought of things I had never thought of, found errors I had missed, or had a different reaction to sections than I anticipated. They read the same words, but saw something different.
Two lessons stay with me. On the pathway of life, we are blessed when others share the same trail we are on. Secondly, sometimes, you have to slow down, pause, and look at something from a different angle. Hidden treasure might be right in front of us.
Wishing you a special holiday season, whatever and however you choose to celebrate.
Happy Hanukkah!
Merry Christmas! 
Wesołych Świąt!
Joyeux noël!
Feliz Navidad!
Fröhliche Weihnachten!