Go ahead – Climb a mountain or two. I did just that last week. In the same afternoon. In four hours. What was I thinking?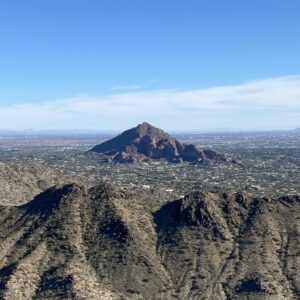 Where I live in Phoenix, individual mountains punctuate the flat desert. Some are steep, some are smaller, or longer, and hikers crowd the hiking trails on weekends. Near me, South Mountain Park/Preserve is one of the largest municipally managed parks in the nation at 16,000 acres and boasts more than 50 miles of trails for hiking, horseback riding and mountain biking. There are many other hikes within driving distance. I love the view from the tops of Phoenix mountains because the view is a 360-degree panorama for miles.
It is not the mountain we conquer but ourselves." – Sir Edmund Hillary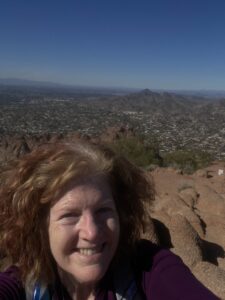 If I can do this, what else can I do in 2022?
I didn't plan to climb two mountains in four hours.
It was an impulsive decision that extended my procrastination of other priorities. If you're going to put something off, do it in grand style, right? I can be impulsive, which gets me in trouble. Other times, if I really think through how hard something is, I may never start. Perhaps the two most empowering words in my personal lexicon are "What if?" The second pair of words are "Why not?"
First, I climbed Camelback Mountain, a trail rated extremely difficult. It took an hour up and an hour down. "Trail" is a misnomer because it is more akin to scaling a steep pile of rocks. Perhaps I needed to prove to myself I wasn't too old. Or simply start 2022 with an accomplishment of something I've never done before. Then I drove twenty minutes and decided to hike Piestewa Peak, which is more like a steep set of stairs that takes about 45 minutes to reach the top. As a point of selfish pride, I think I was the oldest person on both trails. 🙂
I took longer than others as twenty-somethings jogged past. I occasionally stopped to rest. But the top called to me as an innate "I've got this" and a metaphor for "If I can do this, what else can I do in 2022?" I reached the top by doing one thing – putting one foot in front of the other.
Personal mountains come in all levels
Some challenges may be mere speed bumps, where others are so steep the top isn't visible from the bottom. I chose my hikes, but we don't always get to choose, or want, the personal mountains in our path. Life happens when we least expect it, with no guarantees of fairness. Some weeks it may mean living life one day at a time. Some days it is one hour at a time. Some days we have more energy than others. It's still about putting one foot in front of the other at whatever speed you can manage. Success isn't about the race, it's about crossing the finish line.
Whatever goals you have planned for in 2022, I wish you success in scaling your own mountains however low or high they are. Trust me, the view from the top is worth it.
"Today is your day! Your mountain is waiting, So… get on your way!" – Dr. Seuss