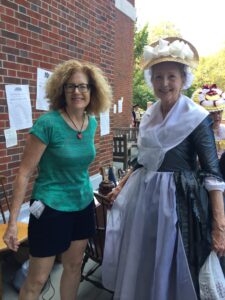 I don't take many vacations far from home. Not because I don't want to, but the advance planning and work often takes more time than I have or simply overwhelms me. It's something I need to work on. We all need to take a break at times. Well, for 2019 I stepped out and took a break and headed for the East Coast. You never know who you might meet in downtown Philadelphia. 🙂
Book talks in Washington DC, Alexandria VA and Allentown PA – all great fun
As I write this I am in Pennsylvania, halfway through a "working" vacation. My friend Cheryl hosted a home party for me at her home in Alexandria VA. These are great fun for everyone and a chance to connect one-on-one. The Polish American Arts Association hosted their regular meeting at the Arts Club of Washington DC, and invited me to present. It was a lovely event and thank you to the PAAA for welcoming me. Then I attended the book club at the Allentown Public Library (PA.) It was a small but welcoming group. I was their first author to visit in a year and a half. Attendees at all talks share a passion for new stories, an interest in a new twist on history, and the cachet of meeting an author. I love connecting with readers in person.
October is Polish Heritage Month
October is Polish Heritage Month. It's a good time to wear the red and white of the Polish flag, and celebrate being Polish. It is also the month before Polish independence is celebrated on November 11.
The first Polish settlers to America arrived in October 1608 and settled in Jamestown. Even then, issues of immigration characterized new arrivals in this country. (See previous blog post here.)
The ill-fated Warsaw Uprising ended on October 2, 1944, after Poles capitulated in the face of devastating losses and defeat. It remains a dark day in Polish WWII history.
Be a Book Fairy. It's fun.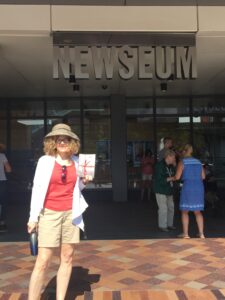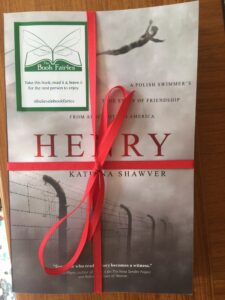 Is it better to give or receive gifts? The answer is both. On this trip I played book fairy with a copy of HENRY in front of the Newseum in Washington DC. This wonderful museum will close in December 2019. What is a book fairy? A book fairy leaves a book in an area where it can be found. The finder of the book reads the book, then hides it for the next person. The idea is to snap a picture of the book and a hint as to where you left it. I may hide one more book on my trip. I'm not telling where. For more info visit the Book Fairies (https://ibelieveinbookfairies.com/).
Shana Tova to my friends who celebrate Rosh Hashanah and Yom Kippur
In the spirit of beginning a new year, enjoy this fun video.
Where are you taking your next break?