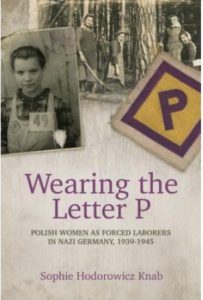 Polish women sent as forced labor to Nazi Germany during World War II is an under-reported war crime inflicted against Polish civilians by Germany. Germans considered Poles to be untermenschen or subhuman, only suitable for slave labor to the superior German race. Until I encountered the book Wearing the Letter P: Polish Women as Forced Laborers in Nazi Germany, 1939-1945 by Sophie Hodorowicz Knab (Hippocrene Books 2016) I had no idea of this facet of World War II. An estimated 1.7 million civilians were forced into slave labor and sent to Germany, the majority of them young women.
Knab focuses on Polish women, some as young as fourteen, sent to Germany as forced labor during WWII.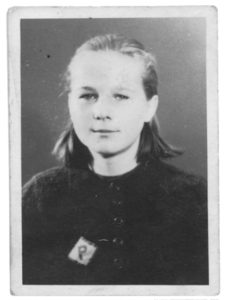 She makes extensive use of letters written home by the women and includes a lot of historical research and information. The book methodically covers a myriad of topics of daily life. Various chapters address roundups, transports, hard labor in agriculture and factories, health, and one aspect unique to women: pregnancy and childbirth. She also addresses the mixed fates of Polish children born in Germany. Knab said she not only wanted to document the story of the slave labor experience which her mother had endured, but to give a voice to the women who endured so much, and received so little recognition.
Growing up, Sophie never really understood the historical context of what her mother had been through.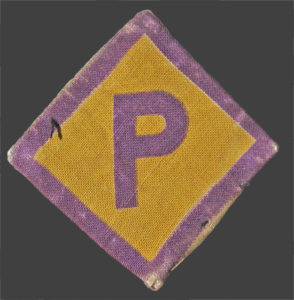 Information on life and death in concentration camps has been well documented. Yet there was no literature about the forced labor aspect in English that she could find. She remained curious, but life moved on. One day Sophie was looking in a history book and saw a picture of a trolley in Warsaw with the letter "P". She would learn the "P" meant the trolley was restricted to "Poles only" after Germans took up residence in the former capital city. It was a discriminatory tactic similar to forcing all Jews to wear the Star of David. Poles forced into slave labor were required to wear the letter "P" pinned to their clothes at all times.
Knab spent fourteen years writing Wearing the Letter P: Polish Women as Forced Laborers in Nazi Germany, 1939-1945.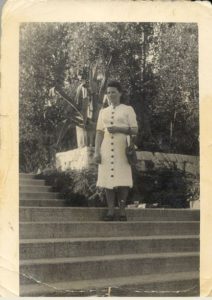 The book is dedicated to her mother, Jozefa Zalewska Hodorowicz, who was survived two years of forced labor in Germany from 1943-1945. Sophie's oldest brother was born in a slave labor camp in Unterluss, Germany during the war, and somehow he managed to survive. Sophie and two more brothers would be born after the war in camps for displaced persons. After the family immigrated to the United States when Sophie was six years old, they were often referred to derogatorily as "DPs." Fitting into the American community was a struggle. Many Americans, who had no knowledge of Poland's fate, didn't believe Jozefa when she said she had been in a slave labor camp.
Ultimately, Knab wrote the book she could not find.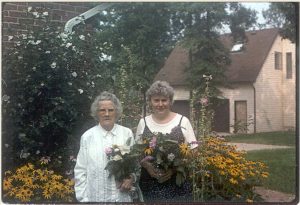 We are fortunate that she is fluent in Polish as she was able to take on the laborious task of translating letters, documents, and other original resources from Polish to English. The book reads like a well-researched resource based on many women, rather than a single storyline or novel, even though there is a continuity of letters from several of the same women throughout the book. As such it fills an important niche of valuable information that a reader can pick up and turn immediately to key issues. 
One time, Sophie's mother described a horrible scene she witnessed at the end of the war and never forgot: the bodies of women and children killed in a bombing. In answer to Sophie's many questions to this and other stories, Jozefa had a ready answer: "Don't ask me child, just be glad that you have never known war." 
For more information on Sophie Horodowicz Knab and her books visit sophieknab.com.