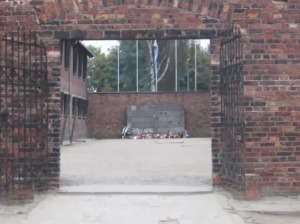 Do not blame Poland and Poles for the Holocaust. It's untrue, wrong and akin to hate speech. I struggle to comprehend the vehemence of so many people to blame Poland for the Holocaust and for concentration camps built in occupied Poland by Germany. Clearly, a review of Polish history is in order. Think of Henry Zguda, and thousands like him, who were beaten, starved, or worse, in German concentration camps like Auschwitz and Buchenwald. Then imagine someone telling Henry Zguda to his face he hadn't suffered as much as others, and most of Poland collaborated with the Germans. That Poland should pay for its role in the Holocaust. It happened. And he never forgot it. Such is the seemingly worldwide insistence and conviction to blame Poland for the Holocaust, including the government of Israel. Consider the following.
Ten Historical Lessons of Poland in World War II that Refute Blame
1. In 1939, both Germany and Russia invaded, divided and occupied Poland, and effectively wiped the country off the map of Europe. Again. The Polish government existed in exile. Heinrich Himmler, director of the dreaded SS proclaimed "all Poles will disappear from the world . . . it is essential that the great German people should consider it as its major task to destroy all Poles." The Germans considered Poles to be Untermenschen or subhuman. (Click here for more info.)
2.  The Polish Army defended Warsaw from German invasion for 28 days before capitulating. France completely betrayed Poland despite a joint pact signed in 1939 to send the French army within 15 days of any German attack on Poland. Eighteen thousand Polish civilians were killed, and 140,000 Polish soldiers surrendered and were taken captive, most likely executed soon thereafter.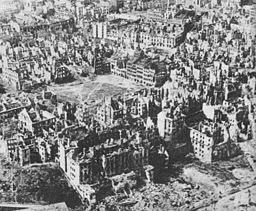 3. By the end of WWII, due to massive bombing by Germany, Warsaw lay in ruins, barely inhabitable by 1,000 people. The prewar population  exceeded one million people.
4.  The Germans chose Auschwitz as a primary killing center for purely logistical reasons. Among them, large tracts of land were cleared by evicting Polish farmers. From 1940-1942, Polish prisoners represented the majority of prisoners. In other locations, concentration camps were also built close to high concentrations of Jews to save on transportation costs. They were all built and designed by the Germans. They were constructed by slave labor.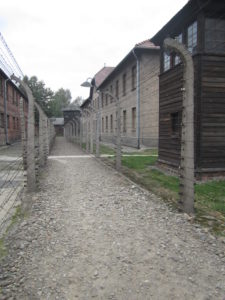 4.  Today, the Polish government is committed to preserving evidence of the Holocaust for future generations. The Auschwitz-Birkenau State Museum is one of three leading Holocaust institutions in the world.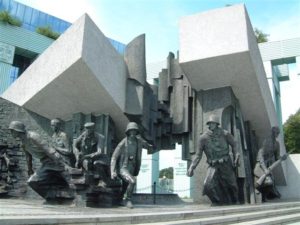 5. During the Warsaw Uprising of 1944, more than 150,000 Polish civilians lost their lives fighting the Germans. More than 26,000 Germans died before the Uprising was squashed.
6. Six million civilian Poles lost their lives in WWII. Three million Jewish, and three million primarily Christian. This includes a third of Poland's cultural and intellectual elite: anyone with higher education such as academics, scientists, doctors, and half of all lawyers.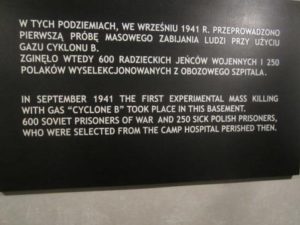 7. In Auschwitz, initial testing of Zyklon B gas was performed on ill Polish prisoners and Soviet POWs.
8. In March 1943, the Germans held a small celebration in Kraków to acknowledge the dispatch of the millionth Pole sent to Germany as slave labor. 
9. During the war, Germans kidnapped some 200,000 Polish children to be sent back to Germany and raised as good Aryan Germans by foster families. Only 15-20 per cent ever returned to Poland. Few ever learned of their Polish heritage.
10. In Poland, if any Pole aided a Jew their entire family was executed. No other occupied country had such a stiff penalty. And yet, Yad Vashem recognizes more than 6,700 Poles as Righteous Among the Nations for saving Jews, more than any other country.
Misinformation, Propaganda, and More Betrayal After World War II. Blame Churchill and Roosevelt.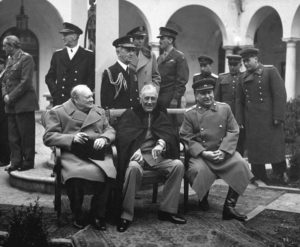 At the end of World War II, Poland suffered the ultimate betrayal by her two strongest allies – Great Britain and the United States. Winston Churchill, Franklin Roosevelt, and Jozef Stalin met twice before the war's end, and agreed that the spoils of war to Russia included Poland, without ever consulting or informing the Polish government exiled in London. There were two key consequences. First, Stalin forbid the teaching of Polish history, Polish heroes, and Polish suffering for three generations. Stalin also executed any surviving Polish patriots after the war. Secondly, Britain and the United States, in deference to Jozef Stalin, never reported the huge extent of Stalin's crimes, leaving the West ignorant of half the war fought in Poland. In Great Britain, that also meant that the more than 200,000 Polish members of the Polish Armed Forces who fought fiercely with the British High Command against Germany, were not permitted to march in the Victory Parade on June 8, 1946. Conversely, representatives from 17 other allied countries marched in the huge parade. This huge insult is almost inconceivable yet it happened. It would be sixty years before Britain included Poles in the annual victory parade of 2005.
Many Countries Ban Rascist and Hate Speech, including Holocaust Denial
If Poland needs to enact a law to make a statement, it is because the push for Holocaust blame is relentless from many factions. Holocaust denial, another form of hate speech, is currently illegal in multiple countries including Poland and Israel. Holocaust denial in Israel carries a five-year prison term. (See here for Yad Vashem.)
Anti-Semitism Was a Serious Problem in Poland – but Not All of Poland
There are many more examples of German crimes and other injustices against the Polish people. It is also historical truth that anti-Semitism was a serious problem in pre-war Poland, as it had been for decades in many countries. Remember the Vichy government in France? Terrible pogroms were committed against Jews by anti-Semitic Poles even after the war, and it is these incidents used so often to paint all of Poland as anti-Semitic and equally guilty. I do recognize that for many Jews, that is their true and only experience of the war. However, the actions of a number of Polish citizens were not the actions of the entire country or of the government in exile. In the face of extreme racism, does that mean every citizen is racist and shares full blame for all citizens?  If so, then as an American I am also guilty of slavery, insidious racism, lynching, anti-Semitic crimes, interning of Japanese-Americans during WWII, and the genocide of Native Americans. Every country has its ugly side but that is never the entire truth.
The views expressed in this column are the author's alone. The historical facts listed above are well-known and well-documented. #GermanDeathCamps