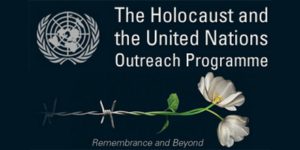 The International Holocaust Remembrance Day is January 27. In 2005 the United Nations designated January 27 as an annual International Day of Commemoration in memory of the victims of the Holocaust. The date was chosen in honor of the day Auschwitz was liberated by the Russians. The UN designated the theme for 2017 as "Holocaust Remembrance: Educating for a Better Future." Given a current rise of anti-Semitism and other forms of hate in Europe and close to home, the subject is extremely timely.
The 2016 Film Denial features Rachel Weisz as Professor Deborah Lipstadt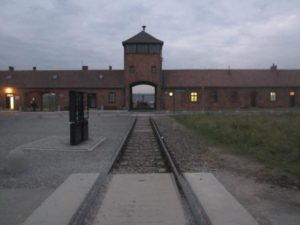 The premise and story of Denial are completely contemporary – how do you deal with those who distort the truth, often for their own purposes, and then present it as real? In 1996 David Irving, a published British Holocaust denier threatened Lipstadt, author of a 1993 book about Holocaust denial, with libel. She fought back, and in 2000 the British court ruled in her favor. In 2005 she published a book about the experience entitled History on Trial: My Day in Court with David Irving. The film Denial is based on that book. I saw the film after someone asked for my opinion of it for her film group. The movie crossed too many personal Venn diagrams for me to resist. I'm well-researched on World War II, I've spent hours interviewing a survivor who was there, and I've visited Auschwitz where part of it was filmed. The film is a courtroom drama and I have training as a paralegal.
Viewing the film Denial Has Value in Spurring Discussion and Sparking History Lessons 
We need people like Professor Lipstadt who stand up to people who distort history for their own use. She paid dearly in time, stress and money, to simply communicate the truth. She stood by her beliefs and fought the long battle and I applaud her for it. All Holocaust denial is rooted in a thinly-veiled white supremacist brand of hate and anti-Semitism. The facts, evidence, and testimony defy the denial of real history. Unfortunately, I only give the film two and a half stars out of four, and perhaps that's the fault of the filmmakers. Professor Lipstadt was portrayed as consistently humorless, angry and abrasive. It's hard to make a staid British courtroom dramatic, and I wanted more information as to the lasting impact of her battle. I am also sensitive to another form of denial perpetuated by this film – the lack of any mention of other categories of victims in the Nazi death camps.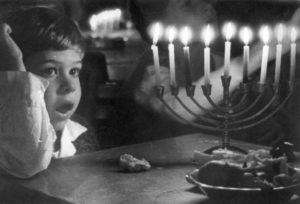 A Shocking Display Close to Home Reminds Me that We Need to Stand Together Against Hate
In December, Seth Ellis of Chandler Arizona fashioned a creative seven-foot tall menorah for his front yard out of PVC pipe, spray-painted it gold, and topped it with solar lights. His three young boys wanted lights on their house like their neighbors' houses had Christmas lights. After the boys went to bed on the sixth night of Hanukkah, someone dismantled their special menorah and turned it into a giant swastika. The incident made international news and rightfully so. Ellis rebuilt the menorah, the family's rabbi and congregation came in a ceremony to rededicate it, and over 200 community members came in support of the family. Had I known in advance I would have been there. But, for the Ellis family and their young children, the memory will always remain. Click here for the complete story, photos, and video of the rededication.
"Educating for a Better Future" is a perfect Theme for 2017 Holocaust Remembrance
A friend shared a sign from a personal historian conference he attended. It read "The past actually happened but history is only what someone wrote down" by A. Whitney Brown. I would add, that history is remembered not only as written, but as it is taught.
Shalom.
For more information: Deborah Lipstadt's website Holocaust Denial on Trial, the United Nations 2017 Holocaust Remembrance Calendar of Events, and the United States Holocaust Memorial Museum.