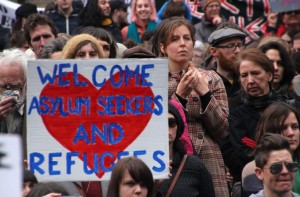 Refugees from Syria, Afghanistan and other countries now think of Dachau as a sanctuary. Or at least some buildings that used to be part of the original camp. Germany is struggling to find housing and locations for the flood of asylum-seekers crossing her borders. One option recently utilized is the repurposing of  buildings left over from WWII concentration camps. While the idea may seem abhorrent to some, there is a certain logic to such a choice, especially with little available housing. Dachau has been used before for refugee housing.
Overview of Dachau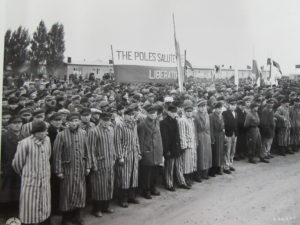 Dachau, the first (German) concentration camp, opened March 22, 1933 for political prisoners, e.g. opponents of Adolf Hitler. The camp, located approximately twenty miles northeast of Munich, Germany, functioned as the model, and training ground, for future concentration camps. Until the U.S. Army liberated the camp on April 29, 1945, at least 180,000 prisoners were registered; at least 28,000 died there. Henry Zguda was liberated at Dachau, three days after arriving there from a two week death march from Buchenwald. He was one of the ten percent who survived the brutal march; he was near death by the time he arrived.
A History of Refugee and U.S. Military Housing at Dachau
After the war, the U.S. military used Dachau to house former Nazis, and hold war crimes trials there. In 1948 the camp portion was returned to the Bavarian state, which then built a housing development for refugees and homeless on the site. Thus in the fall of 1948 the prisoners' barracks were transformed into apartments and stores for about 2000 Germans from Czechoslovakia. This settlement, officially named Dachau-East, remained in the former prison camp for 15 years, until 1964. The U.S. military occupied the main SS barracks buildings from 1948 to 1973, renaming it to Eastman barracks. Today, the complex is used as a training site for the Bavarian police. A woman in my writer's group shared with me a couple of stories of living there at age nine, when her father was stationed at Eastman Barracks. However, for many reasons, including its proximity to Dachau, she has no desire to ever return there.
Opinions of the Move are Varied and Strong
According to news reports, the refugees housed there are grateful to have a roof over their heads, caring less about the history than their current, and dire, housing needs. The Mayor of Dachau is striving to use every possible shelter to welcome as many refugees as possible. The facilities being used for housing were granted to the city of Dachau and are separate, though very close, to the current memorial. Those who want Dachau preserved as a memorial decry the move, but may not fully understand the history and separation of sites. The Memorial has issued a statement: "No homeless persons or asylum applicants are accommodated or staying on the grounds of the Dachau Concentration Camp Memorial Site."
I can't stop thinking, What would Henry Zguda and other survivors think?
Historical souce, Dachau Memorial web site, Legacies of Dachau, Harold Marcuse, Cambridge University,Third Reich in Ruins
The Guardian, September 19, 2015; Washington Post January 30,.2015;
Huffington Post September 29, 2015
Statement by Dachau Memorial Site
Top photo from EurActiv.com; second photo is from the National Archives and Records Administration.