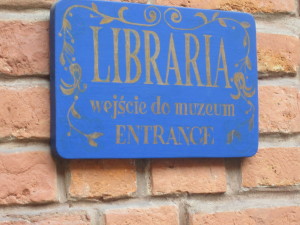 Recently Poland placed eleventh in the world for math and science, and fifth in Europe,  far outranking both the UK and the US. Education rankings by country were announced during a UNESCO forum in South Korea May 19-22. And on a timely educational note, 600 libraries across Poland are holding the first ever "Library Night" Saturday night, May 30. The event kicks off a nationwide drive to read to children. Something's going right in Poland.
The rankings, announced in May at the World Education Forum in South Korea, are the result of test results from an international benchmark test – Programme for International Student Assessment (PISA).  I hadn't heard of it, so I searched the Internet for some basic information. What I found was thought-provoking.
The test questions were written by an academic at Stanford University and an academic from Munich. The test is administered to 15-year olds; the questions are designed to test math, science and analytical thinking, using the math, rather than just reciting back facts and figures. I found a sample test, and while I did fine on problem-solving, I couldn't solve one math problem. I'm glad I didn't have to take the test. (Thankfully I've been fairly successful in life not knowing calculus, but I'm happy to encourage all others.) There is also an optional financial literacy component – which I support.
For as long as I can remember, students in American schools have been tested and scored. For many years, it was the Iowa Test of Basic Skills. Now most states have their own tests and the topic of educational measurement, be it testing or otherwise, remains charged with emotion, disagreement and is fraught with politics. I don't ever see 50 states agreeing on a national test standard/curriculum. Yet, 71 countries took part in the same test, assessing math, science, and problem solving.
Let me just say, congratulations to Poland for its high ranking. Not surprisingly, the results follow a national requirement that math is compulsory through high school. Now . . . about that night at the library. If a museum can come alive at night, just think of all the wily characters lurking in those chapter books.
National Library Night
About the PISA
News article – Polonia
Sample Questions PISA test
Note – As with any set of rankings, criteria and testing can vary. However, I find it significant that it is the same test across 71 countries and was partly developed at Stanford University. I can't find the exact results of 2015 posted, as they were just announced.