Tadeusz Pankiewicz (1908 – 1993) was a pharmacist famed for being the only Polish Roman Catholic to live in, and have access to the Krakow ghetto.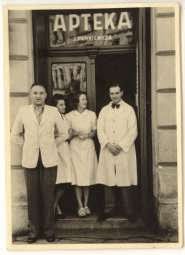 He ran the Under the Eagle pharmacy (Apteka Pod Orłem) located in the Podgórze district inside the Krakow ghetto wall. Prior to the war there were four pharmacies in the ghetto area; the other three accepted the German offer to relocate to Aryan parts of Krakow. Pankiewicz chose to keep his pharmacy open and lived on the premises. First he had to prove to the Germans he was of Aryan heritage, and that his three employees were also of Aryan descent. Once proved, he and his staff were given passage permits to go in and out of the ghetto. 

The pharmacy became a hub of activity and Pankiewicz and his staff risked their lives many times to smuggle food into the ghetto, and people out of the Ghetto through the back door of his pharmacy. He hid valuable objects and scrolls from synagogues, and provided medicines to residents of the ghetto, often at no cost. Sometimes he supplied tranquilizers for children, so parents could make sure their children slept and were silent during Nazi raids. He sheltered who he could to save them from deportation.

I didn't know this remarkable story prior to visiting Krakow, so it wasn't on my radar or list of places to see while there, as I was primarily researching Henry's connections and history. We did visit the Heroes Square in Krakow in the Jewish part of Krakow. Today it is memorialized by empty metal chairs – as a reminder that the Jews of Kazimierz and Krakow were forced to carry all of their belongings – including furniture to the Ghetto, into the Ghetto; and deported to their deaths with nothing, from the same spot. In hindsight, when we toured the Jewish portion of Krakow, I regret we didn't have a better tour guide. The pharmacy was never pointed out and we probably walked right past it.

I did find an interview with Pankiewicz filmed in the 1980's on YouTube.  It's black and white, in Polish with English subtitles and about 45 minutes long.  I watched the first 20 minutes or so. I'm always humbled by ordinary people who, by listening to their internal moral and spiritual compass, rise to do extraordinary feats. I also believe it is important to honor the many Catholic Poles who risked their lives to save their Jewish neighbors.

Photo from krakow.pl.