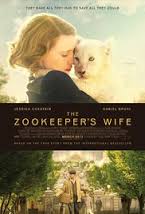 The Zookeeper's Wife opens in movie theaters in the United States on March 31, 2017. I've been waiting for this film for three years. When my husband and I visited Warsaw in October 2013 they were filming it (per our innkeeper.) If you haven't seen the previews yet, it stars Jessica Chastain in the true life story of Jan and Antonina Żabiński. They were the directors of the Warsaw Zoo when WWII broke out and are credited with saving 300 Jews from certain death. Their story is more timely than ever.
The movie is adapted from Diane Ackerman's 2007 book The Zookeeper's Wife.
I read the book when it came out in 2007.  I remember the story itself as very interesting and one I hadn't heard of. Ackerman continues to be a prolific author of multiple best sellers, a status I'd gladly accept. I have high hopes the movie has a great script, will reach millions of viewers, and does justice to the courage of the Żabińskis. Kudos to Ackerman for highlighting a great story that deserves widespread recognition.
I

n Poland 

the penalty for hiding Jews was death for you AND your entire family.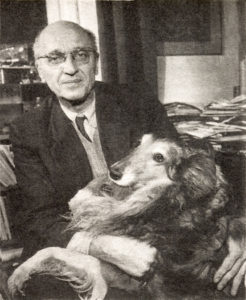 Jan and Antonina risked their entire family to do what they saw as the right thing to do. In recognition of their acts, Yad Vashem in Israel recognized Jan and Antonina as Righteous Among the Gentiles. on September 21, 1965. Jan never accepted payment or gifts for their actions. By his own testimony, "I am a Pole – a democrat. My deeds were and are a consequence of a certain psychological composition, a result of progressive-humanistic upbringing, which I received at home as well as in Kreczmar High School. Many times I wished to analyze the causes for dislike for Jews and I could not find any, besides artificially formed ones."
In 2015 the Zoo opened their villa as a small museum, including the tunnels underneath the house.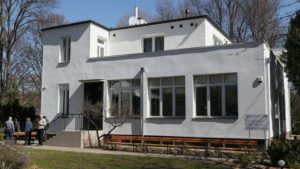 Based on initial worldwide distribution, there should be a huge audience. The movie opens in Poland a week before its release in the United States, to be followed by releases in Hungary, Singapore, Estonia, Netherlands, the UK, Germany, and Spain (according to imdb.com.) In 2013 our innkeeper voiced an additional hope: that The Zookeeper's Wife will encourage more tourism to Warsaw, just as Schindler's List inspired more tourists to visit Kraków. On several Polish Facebook groups, multiple Poles have also voiced a concern and hope that the film will accurately portray the Polish experience as an invaded country.
#ZookeepersWife
For additional information
Culture.pl archival images on the Żabińskis and the Warsaw Zoo
Excellent article, When 300 Jews Escaped the Nazi Camps by Hiding in the Warsaw Zoo , Jewish Telegraphic Agency, March 23, 2015
The Museum of the History of Polish Jews put together a virtual exhibition named "The House Under a Wacky Star."  that includes history of the Warsaw Zoo, background information on the Żabiński family, and a few of the 300 Jews who were saved.
Recognition by Yad Vashem in Israel of Jan and Antonina as Righteous Among the Gentiles, awarded September 21, 1965.