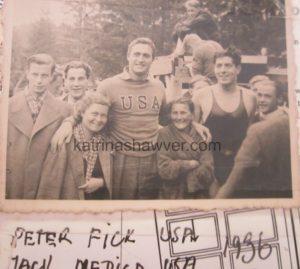 Watching the Rio Olympics, I'm reminded of how far the sport of swimming has come. Henry Zguda began his lifelong career as a swimmer in the Krakow YMCA in 1933. At that time, the indoor 25-meter pool was the most modern and newest pool in all of Poland. The YMCA eventually built pool facilities in other major cities in Poland, and sponsored swim competitions throughout the country. In 1936, following the Berlin Olympics, three American swimmers visited Kraków on a goodwill tour. Henry spoke fondly of swimming against gold medalist Jack Medica, silver medalist Ralph Flanagan, and Peter Fick who placed sixth overall in the men's 100-meter freestyle.
Starting Blocks for Swimmers Have Come a Long Way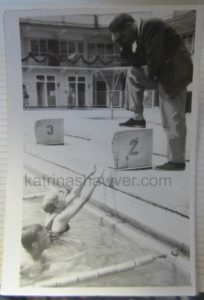 Today's swimmers race in state-of-the-art pools designed to minimize a swimmer's wake. The starting blocks have a slanted back edge to push a rear foot against, the longer swimsuits reduce water drag with the best-engineered fabrics. It seems every Olympics swimmers are setting new world records, and then beating their own world records. Have we reached peak nutrition? Are swimmers taller? Stronger? I don't know, but I found a fun picture for contrast to modern day starting blocks. In the 1950s Henry later became a professional swimming coach. As he stands with his foot on the "starting block", note that it is simply, a block. Things have certainly changed.
Every Athlete has a Story
The journey to the Olympics is personal and different for every single athlete. Henry never competed in an Olympics, but as a swim coach, he took his swim team to the 1952 Helsinki Olympics. For fun, I am including some earlier swim photos.
Note: I have posted fewer blogs in the past few weeks, as I've directed more time to finishing my manuscript. I am within days of finishing the final edits, with thanks to my editor Ann Videan. Please send good thoughts that I find the right publisher who will be equally passionate about this story. Na Zdrowie!