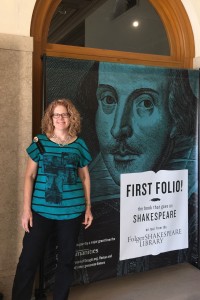 When I first heard of Shakespeare's first folio on display at the Tucson Festival of Books, I didn't know what the book was, let alone understand the significance or historical value of this book. Just tell me up front – I'm looking at an object worth millions of dollars and you've got my interest. In 1623, seven years after William Shakespeare died, two of his friends published a collection of thirty-six of Shakespeare's plays as a tribute. Without this 'folio,' Shakespeare's plays would likely be lost to history. You just never know what you'll learn at a book festival.
A First Folio By the Numbers 
It's estimated up to 750 first folios of Shakespeare's plays were eventually printed, at an original cost of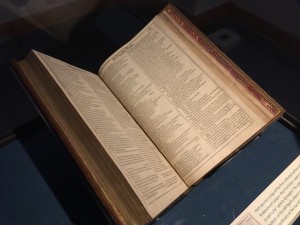 one pound, or about $250 today. The first folios took two years to print, which is understandable when you consider the technology: every letter on every page was an individual metal piece that had to be set in place. The first folio was not a quick seller, but it did eventually go into second, third and fourth folio editions. These often became family heirlooms, handed down from generation to generation. There are 235 known copies still in existence; each one is different, for various reasons. Some are different simply because various families might have written in the margins, or otherwise marked up. The binding might be different. Another difference goes back to the original printing process, where every letter on every page had to be set individually. If a misspelling was found, they changed the type for future copies but never reprinted older ones.
To Be or Not To Be, That is the Page
For insurance purposes, even the binding of the folio on display at the Arizona State Museum is hidden, so as not to reveal exactly which folio is on tour. Each folio is valued differently, some at three million dollars, some over six mi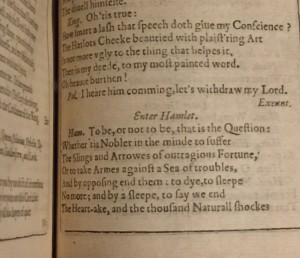 llion dollars and other varying amounts of money, all more than I'll see in a lifetime. The folio is displayed in a glass case, in a darkened corner of a room, with a Shakespeare friendly guard never more than a foot away. The guard was a no-nonsense person, but possessed a clear knowledge of the treasure he guarded, and could answer any question asked. For display purposes, the folio was opened to Hamlet's soliloquy, "To Be or Not to Be."
The Folger Shakespeare Library in Washington D.C. has the largest collection of First Folios in the World.
The first folio on display in Tucson is on loan from the Folger Shakespeare Library in Washington D.C. The library owns the largest collection of first folios in the world. Henry Folger, president of Standard Oil of New York, and his wife Emily lived frugally, had no children and loved Shakespeare. They amassed a large collection of Shakespeare-related papers. The Washington Post published an interesting article on the Folgers. Who knew?
For further information: Folger Shakespeare Library, Washington Post article: "Collecting Shakespeare: The Story of Henry & Emily Folger