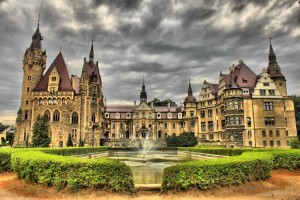 Downton Abbey Fans: meet Fairweather Manor in Moszna, Poland. Spend four days in a live action role play in the spirit of Downton Abbey and England in 1914. Choose your role, learn the history, but most importantly, have fun.
The Fairytale Moszna Castle in Western Poland will Become Fairweather Manor in April 2016
The stunning setting southeast of Wroclaw could be lifted out of the English countryside. Well-dressed nobles and their guests will attend the Duke of Somerset's 60th birthday gala, where of course the inheritance will be discussed in front of the large extended family. The Somersets are long-time patrons of the arts, so expect musicians, poets and writers to be in attendance at the grand party. Servants will attend to the nobles, and like Downton Abbey, take their meals separately.
Noble, Guest, Artist or Servant: Choose Your Role, then Have Fun
Participants in Fairweather Manor play nobles, servants, artists or guests. A guide to how the live action role play event, or 'larp' is played is available as a free download, for more information. The parent company behind Fairweather Manor first sponsored the wildly successful College of Wizardry that operates in Czocha Castle, a smaller castle near the German border. Both programs operate in a style referred to as "Nordic-larp", which seems to be a full-immersion style, played as entertainment, allowing the players to experience their roles. More info at nordiclarp.org.
The Moszna Castle also Operates as a Hotel
The history of the castle dates to the mid-seventeenth century, though a fire in 1898 destroyed much of the central part. The owners, the family of a Prussian tycoon, began immediately to rebuild, so much of the building you see today is just over one hundred years old. In 1945, the Soviet Red army evicted the owners, sent them back to Germany and plundered much of the interior. The castle is on the rebound as a hotel after serving as a series of institutions. Several comments on TripAdvisor do mention the castle looks better from the outside than the interior. But for the four days of Fairweather Manor, who's looking in every room?
Sign me up . . . as a noblewoman of course. And please don't tell me how Downton Abbey ends. I missed the broadcasts and am waiting for the DVD to arrive so I can watch all of Season 6 at once.
Websites: Fairweather Manor, College of Wizardry,
Note – Information has been compiled from various websites. I have not visited the Moszna Castle personally.