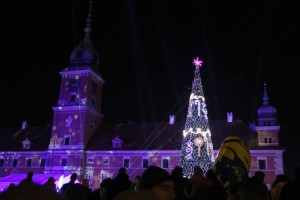 Holiday Lights in Warsaw are turned on in spectacular fashion. Thanks to Radio Poland, I share a few photos from the ceremonial lighting of the Christmas tree in Warsaw's Castle Square, and the holiday decorations in the Old Town and along the Royal Route. The menorrah is also lit, in honor of the first days of Hanukkah.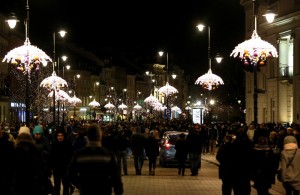 Soon, I will decorate my house, begin wrapping presents, and perhaps get Christmas cards sent out before February. For now the peace is in not doing as much, avoiding the frenzy, and rather enjoying everyone else's efforts. In that spirit, I am reprinting a Christmas poem written by Cindi Reiss, of the Phoenix Writers Club.
In this month of December of goodwill and cheer
I wish you all joy in the faiths you hold dear.
Lighting Hanukkah candles, spinning dreidels of clay
May peace be upon you as you honor each day.
As you set your Nativity under the tree
May your hearts be blessed with joy, love and glee.
May the principles of Kwanzaa fill up your abode
As you honor your culture and follow that road.
However you celebrate and those who do not
May you smile at your neighbors in our large melting pot.
So send off your cheer in your writerly ways
I wish you much goodness for all of your days.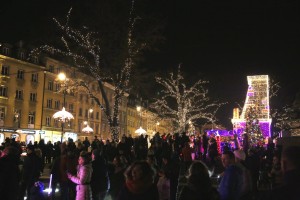 I wish you a peaceful, less frenzied holiday season.
Christmas Photos: PAP/Tomasz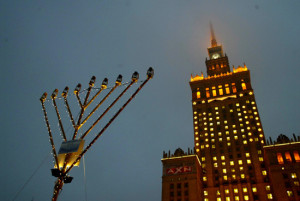 Gzell, Radio Poland, 2015.
Photo of menorrah in front of Warsaw's Palace of Culture and Science is courtesy of chabad.org. Photo is undated.