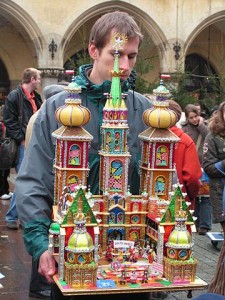 The Krakow Christmas market Opened Friday November 27, and will run through December 26. Over 80 stalls are set up in the Main Market Square of Krakow. Shoppers have the opportunity to choose from regional souvenirs, and sample hot food as well as the local specialty, mulled wine (grzaniec galicyjski). A real highlight of the week will be the annual Nativity Scene Contest, a tradition that dates back to 1945.
The nativity "cribs" or szopkas competition has been tradition for seventy years
Since 1945, the first Thursday in December has been set aside for the annual Nativity Scene competition in Krakow. However the custom of building these cribs dates to the 18th century, and originated in Krakow. Sometimes referred to as "cribs", or the Polish term szopka, these nativity scenes are usually inspired by local architecture. The tradition will be to display these at the foot of the Adam Mickiewicz monument this Thursday, December 3. Adding to the festive atmosphere, local bands and choruses perform periodically throughout the Christmas market, on a central stage in the market square.
In 2014, over 200 competitors of all skill levels and ages submitted contest entries
Everyone is encouraged to get in the Christmas spirit. Elaborate entries crafted by old masters, and previous competition winners, will sit next to entries from all ages from youth to seniors. The works are usually crafted of wood or paper; some masters work on their entries for a year. The cribs will only stay on display from 10 a.m. to 12 noon, Thursday. After that, they will be transferred to the Historical Museum of the City of Krakow, where they will be judged in various categories. Winners will be announced on Sunday, December 6. Based on the photos, I'd hate to be one of the judges; they're all so beautiful.
Short video by Krakow Post TV – worth a watch to see the spectacle
I include this two-minute video from Krakow Post TV. It was filmed during the 2014 competition and is definitely worth a watch. The commentary is in English. It takes a video to really show just how elaborate these masterpieces are. As a bonus, it will give you a sense of historic downtown Krakow, anchored by St. Mary's church.
Photo credit: "Szopka krakowska2" by user:cancre – Own work. Licensed under CC BY-SA 2.5 via Commons – (found on wikimedia.org)