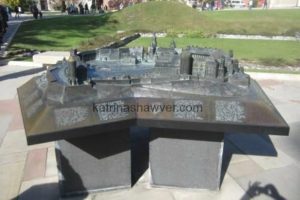 Cast metal displays in historic Krakow for the vision impaired represent miniature versions of major sights. I find this secondary art form in Krakow fascinating, in that even a seeing person can grasp a detailed bird's eye view of these sights. They have signage in Braille, as well as other languages. Somewhere on each display is a small brass peg representing the height of a human, so that a vision-impaired person might perceive the actual size and shape of these buildings.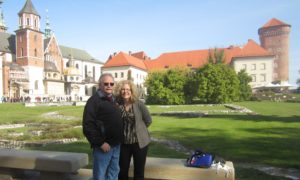 Wawel Castle Big and Little
Wawel Castle (pronounced "VAH-vel") which sits atop Wawel Hill is one of the most visited sites in Poland. Much of it is restored and available to walk through.  You can walk the grounds for free or choose to tour a specific section of the castle – there are eight different tours, each about 15-30 minutes long.  I think of it as sort of a castle buffet. Here we stand with a small portion of the castle in the background. Nearby (but not in the photo) is the metal version that's pictured in the top photo.
Krakow's Barbican (Defensive Fort) Big and Little
Polish histor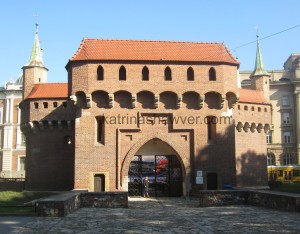 y, including Krakow's, is one of invasion by many forces. After being invaded by the Tatars (precursors to Mongols) in the 13th century city leaders built a wall encircling the city. The original structure included 47 watchtowers and eight gates. This barbican stood outside the main city wall guarding a gate to the city. It's somewhat hard to envision the original, given the modern buildings as a backdrop, but it remains a marker of history. Another reason little remains of the original city walls is that In the 1800's, when Krakow was under Austrian rule, leaders tore down the city walls. The land was then converted to the Planty, a lovely greenbelt park that still encircles the original city for about 2.5 miles.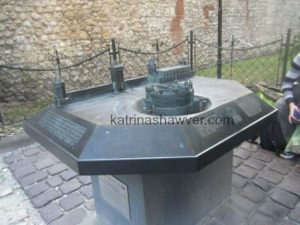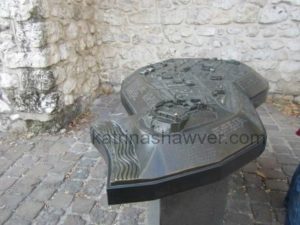 All photos taken in October 2013. The middle is of the Barbican, and the bottom photo is of the original city of Krakow. Anyone is encouraged to touch these miniature creations.