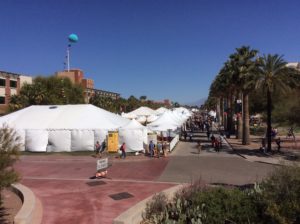 The Tucson Festival of Books, with 130,000 people in attendance, now ranks as the third largest book festival in the country. Its mission: be a community-wide celebration of literature. Mission: accomplished on multiple levels.
1.  Everything is Free. Free parking. Free workshops. Free ticketing. Free.
2. Big name authors: Amy Tan, Mitch Albom, Greg Iles, J.A. Jance, Dave Barry, Ridley Pearson, Scott Turow, Gail Sheehy, Lisa See, Robert Crais, Catherine Coulter and really more than I can count. Then add in the philosopher Noam Chomsky to wrap up the festival. Many authors launched or announced new books at the festival, and many Arizona authors including Betty Webb,  J.A. Jance and Marcia Fine had a chance to highlight their works.
3.  All proceeds benefit literacy programs. The festival was founded in 2009 – since then it has contributed over $1 million to non-profit organizations who support literacy. The benefit concert Friday night by A-list authors probably raised over $200,000 alone.
4. Arizona looks good. Who can argue against enthusiastic support for books, writers and literacy? Busy venues mean big authors come back.
5.  The festival is incredibly well run and organiz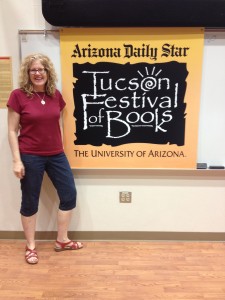 ed – all entirely by volunteers. Every session begins and ends on time, and moderators are well researched and prepared. The web site is easy to use. This year they added a free ticketing option for high-demand sessions so people could reserve seats and not have to stand in line for two hours for a big name.
6. All genres are represented, offering a literary smorgasbord including YA, Romance, Mystery, Nonfiction, Fantasy, Sci-Fi, Children's, Cooking, Poetry, Screenwriting/Film and craft classes for writers to learn business, writing and social media tips.
7. It's on the campus of my favorite university: The University of Arizona. (during Spring Break)
8. You get to listen to authors and hear some background stories. Some are really funny.  It's one thing to see a small headshot on the back of a book jacket. It's another to realize that some ar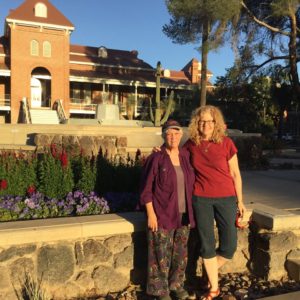 e well-spoken and laugh out loud funny. Somehow once I've met or seen an author I'm already more interested in reading their works.
9.  Network, network, network.
10. It's a weekend away with a good friend.
All photos by author. Photo of Dani Hoots is because she is a friend of my daughter's and already written three books.