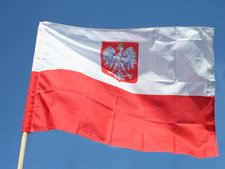 Two Polish holidays, Labor Day and Constitution Day, occur in early May. Labor Day on May 1 celebrates workers.  Constitution Day, celebrated on May 3, remembers the declaration of the Polish constitution in 1791. Thanks to Thaddeus Kosciuszko there is a strong tie to the American constitution signed four years earlier in 1787. 
May 3 is Poland's Constitution Day
Poland's Constitution Day – a day that honors the declaration of Poland's constitution May 3, 1791. There is a strong tie between the young United States and the young Republic of Poland, namely (1746 -1817.)  The Polish constitution, in many ways, reflected the huge influence of the American constitution. Why? Thaddeus Kosciuszko
Thaddeus Kosciuszko – Polish Hero
Kosciuszko arrived in America one month after the signing of the Declaration of Independence.  He came to this country fleeing his native Poland after a death sentence was handed down because he dared court a woman above his station. 
Thaddeus Kosciuszko's connection to Thomas Jefferson 

As he was educated as an engineer, the Continental Congress commissioned him as Colonel of Engineers in the Continental Army, and Kosciuszko fought for American independence. He was so moved by the Declaration of Independence, he sought out Thomas Jefferson, introduced himself, and he and Jefferson remained lifelong friends.
After the Revolutionary War, he returned to Poland in 1784; there he was instrumental in the constitutional movement in Poland. In 1794 he led an insurrection against Russia. Following imprisonment by Russia, he again returned to the United States in 1797 and settled in Philadelphia. 
Legacy of Thomas Jefferson and Thaddeus Kosciuszko

Today he is honored in both Poland and the United States. His house, the Kosciuszko House, stands at 3rd and Pine Streets in Historic Philadelphia, PA. It is maintained by the (United States) National Park Service as a national memorial. In Poland, he is buried in Wawel Castle in Krakow, among the tombs of Polish Kings.

Ironically, though both men fought for freedom, Thomas Jefferson would eventually refuse Kosciusko's request to free slaves.  Before Kosciusko left the United States the second time (he lived out his life in Switzerland), he requested that money from his estate be used to buy freedom for slaves, help to educate them and provide them with enough land to support themselves. Thomas Jefferson refused to honor this request to free his slaves.

Additional information can be found:
PolAmJournal.com
www.nps.gov/thko
Polish American Center
Monticello, Home of Thomas Jefferson
Krakow Post – editorial on complexities of Polish Labor Day
Additional Reading:
The Peasant Prince, by Alex Storozynski, Thomas Dunne Books, 2009. (Thank you to my friend Cheryl who gifted this book to me!)

(blog updated May 2020)