Ignacy Jan Paderewski (1860 – 1941) was famous for his music but was also a true patriot of Poland. He is also known for the following quote: The culture of any country is gauged first by its progress in art. 
After the Treaty of Versailles in 1919 when Poland regained her status as an independent nation, Paderewski was named the first prime minister of Poland. Beyond his fame in Poland, I was surprised to find that he has several ties to the United States. In 1914 he purchased a large tract of land in Paso Robles, California, a city about halfway between Santa Barbara and San Francisco. He traveled to California many times between 1914 and 1939 and thought of the United States as a second home. In 1932 he held a concert at Madison Square Garden in New York City that raised $50,000 for the benefit of unemployed American musicians.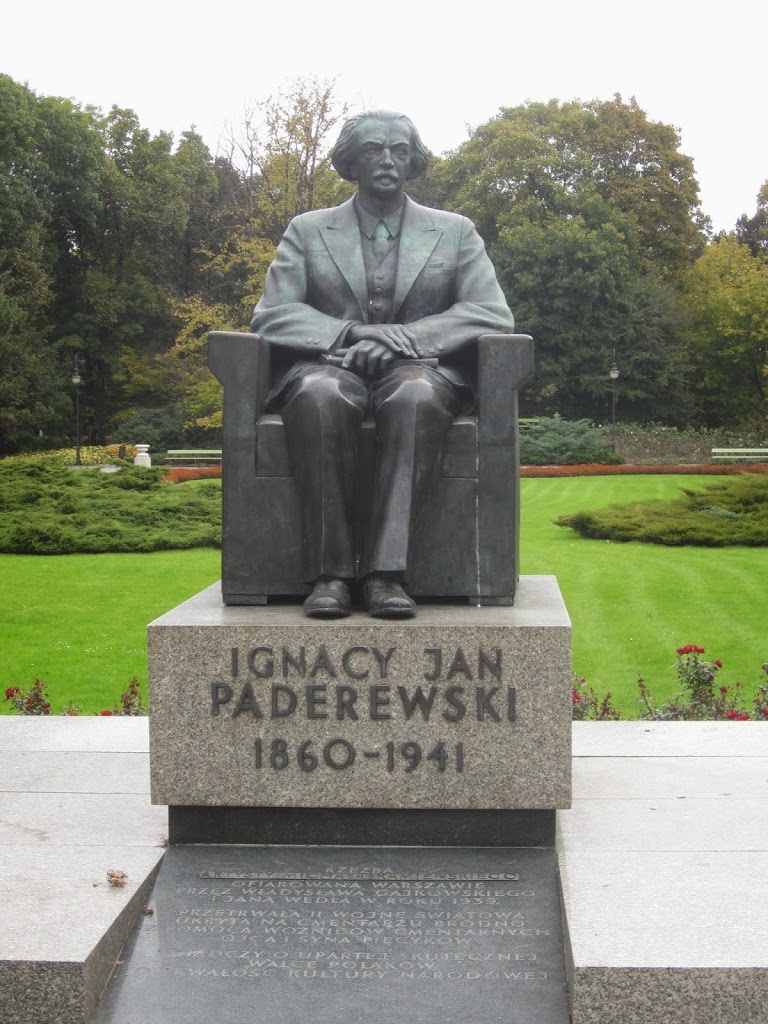 I grew up in a household with a piano and two parents who loved to play. They ensured that I took eight years of piano lessons. I was familiar with the name Paderewski simply as a name in a book of classical music, most notably for his Minuet in G. Yet, when we toured Warsaw, our guide began talking about the Polish 'politician' Paderewski. In a Warsaw park there was a large statue dedicated to Paderewski.  My first response was

 'You mean the pianist Paderewski?'  

Her surprised reply back was 'You know of Paderewski??' (My impression while traveling Poland is that most Poles are always surprised when a non-Polish American knows more than how to spell Poland.)  

While in the United States, Paderewski passed away in 1941 shortly after a rally to raise support for Poland.  His funeral was held in St. Patrick's Cathedral in New York City, which was attended by 4,500 people inside, and 35,000 outside.  By presidential proclamation he was laid to rest in Arlington National Cemetery until his body could be returned to a free Poland; his body was not transported to Poland until 1992. 

The city of Paso Robles, California, in conjunction with the Polish Music Center at the University of Southern California will host its next Paderewski (Piano) Festival in November 2014. November 6 is Paderewski's birthday.  

His portrait also hangs in Forest Lawn Cemetery in Glendale, California, next to an impressive painting of the crucifixion that measures 93 feet by 173 feet. He commissioned Polish artist Jan Styka to paint the massive piece of art. It is one of the largest religious paintings in the Western hemisphere.
Save the Date – November 6-9, 2014 – Paderewski Music Festival in Paso Robles, California.
Photo of Paderewski statue taken in Warsaw in October 2013.  

Information compiled from Wikipedia, and websites for the Paderewski Festival 2014, and USC Polish Music Center. I hope the above quote is from Paderewski – consider it unverified from Wikiquotes. 

Also – go to YouTube and search for Paderewski.  There are two excellent videos – one is a 77-year old recording of Paderewski himself playing Minuet in G.  The second is Liberace playing the Minuet in G, in the 1950s, with string accompaniment. They are three minute videos and well worth a look. 

See  http://www.paderewskifest.com/.