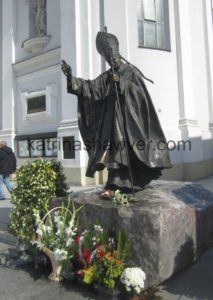 April 2014 is a big month for Catholics, Poles and fans of Pope John Paul II, nee Karol Wotyla. Besides the fact this is Holy week and Easter is in four days, on April 27, 2014 (the current) Pope Francis will declare Pope John Paul II and Pope John XXIII saints during a canonization ceremony in Rome.
Pope John Paul II is like a 'rock star' in Poland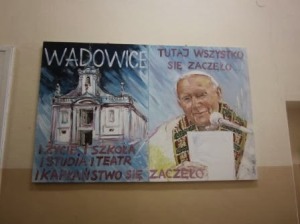 I truly don't mean to be irreverent when I say Pope John Paul II is like a 'rock star' in Poland and for Catholics around the world. Statues of him fill every town, streets are named after him, even an airport bears his name. But now he really is a rock star – in the theatrical sense. The new Italian musical  'Karol Wotyla: The Real Story' opened April 2 and 3 at Kraków's beautiful Słowacki Theater. After a stop in Warsaw for a couple of performances the show will move on to Rome.

The timing is significant; Pope John Paul II passed away on April 2, 2005.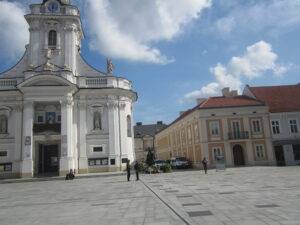 The National Bank of Poland has minted 1.7 million (500 zloty) in honor of the canonization; the bank is besieged with long lines for the relatively expensive souvenir (roughly $165.00).

April 9 the John Paul II Family Home Museum reopened in his hometown of Wadowice (about an hour's drive west of Krakow.)
Pope John Paul II was born in Wadowice, ministered in Kraków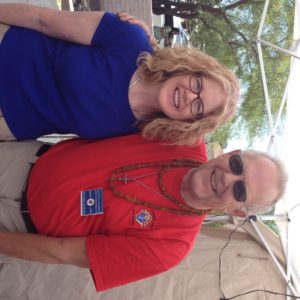 My good friend Mike Richard of livingkrakow.com is in Poland as I write this leading a group of pilgrims to celebrate Easter in Kraków, the home of PJP II in the month of his canonization.

Unless you've been under a rock, you know that Pope John Paul II is from Poland. In 1978, he became the first non-Italian to be named Pope since the Dutch Pope Adrian VI, who served from 1522 to 1523. I still remember news broadcasters struggling to pronounce his Polish last name. Born and raised in the small town of Wadowice, about an hour away from Kraków, he moved to Kraków after high school and enrolled in the Jagiellonian University. In 1949 he was ordained as an assistant pastor in Kraków parish. In 1958 he was named the auxiliary bishop of Kraków. His positive impact on the country of Poland is beyond measure. He is perhaps the most revered Pole of all time.
The Słowacki Theater in Kraków is Stunning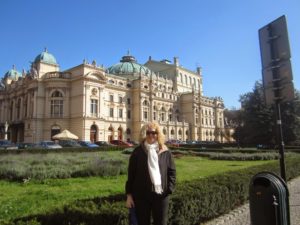 On a side note – I remember Henry pointing out a theater on a street map of Krakow. It's directly across from the train station, so if exiting the train station it's the first building you see. For some reason I had a movie theater in my mind. I was stunned when I saw this beautiful structure, especially lit up at night. The Słowacki Theater was closed when we were in Kraków; otherwise I've have bought tickets to almost any show just to see the inside.