On a quirky note . . . when we stayed in Warsaw, our bed and breakfast was a short walk from Aleja Jerozolimskie, or Jerusalem Avenue. In the middle of a traffic roundabout on a busy street, a 50-foot tall, artificial palm tree surprises the uninformed visitor.  There is only the tree, no signs or explanations unless you have a guidebook for background information.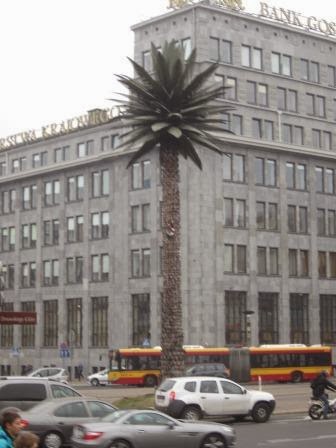 A contemporary Polish artist visited Jerusalem and was impressed with all the palm trees she saw there. In the spirit of 'Jerusalem' – the tree was installed as a temporary art exhibit in 2001, and remains today. The artist envisioned lining the street with the palms; only the one was ever installed. 

If you've been reading every post, then you're familiar with Henry Zguda's youth in Krakow, Poland, and his subsequent 3 1/2 years survival as a prisoner of the Nazis.  Henry has grown up in Krakow, survived Auschwitz and Buchenwald and returned to Krakow. The story begins a new chapter – post-war communism.  The good news is that I have gotten this far in the story – through daily posts for almost five months.     

If you have missed some segments, now is a good time to review earlier posts.  Look at the Tab at the top that reads 'How to Read this Blog.'  I truly appreciate your readership, audience and feedback.

There are three upcoming events in Arizona if you are interested.  

February 27 – June 1: State of Deception, The Power of Nazi Propaganda at the Phoenix Library, Burton Barr Central Library, 1221 N. Central Ave., Phoenix. The program includes a large display taking up a large portion of the second floor with docent tours available. There will be a series of presentations. Speakers include staff of the United States Holocaust Memorial Museum in Washington, D.C., a professor from Kent, England and other professors. There will be a film series as well. I am very curious how much information will be presented on the Polish experience, or mention other victims such as Jehovah's Witnesses, Soviet POWs and Christians. For further information go to http://www.phoenixpubliclibrary.org and http://www.ushmm.org.

March 1-2, 2014: 11th Annual Polish Festival takes place at Our Lady of Czestochowa Parish, 28 W Country Gables, Dr., Phoenix, AZ  85053.  Visit  http://www.polishfestivalaz.org for further information.

March 15-16, 2014: Tucson Festival of Books takes place at the University of Arizona. While I haven't been before – after reviewing the line-up of authors I'm convinced it's heaven on earth for Arizona bibliophiles. Last year 100,000 people attended and there are so many workshops I'm still undecided which ones I'll attend. Perhaps I'll see you there. Visit https://tucsonfestivalofbooks.org for further information. 

 Photo by author.