A huge part of Henry's saga involves 9 months spent in Auschwitz and 2 ½ years in Buchenwald as a Polish political prisoner.  His experience is very d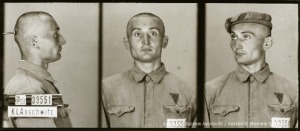 ifferent in many ways than your typical prisoner. So the particular challenge – how do you verify stories that haven't shown up in other reference material?  You fly to Poland and go to the source.
We had an appointment in the morning at 9 am with Dr. Plosa, Head of Archives for Auschwitz Museum.  He was extremely gracious, helpful and had set aside relevant materials in another room for us to view. After not verifying the Pope connection the previous day, I really had no idea how much information there would be – I had sent on some specific prisoner names and numbers for him to locate.  There were many original materials that mentioned Henry, or other prisoners he knew. What wasn't in the documents, Dr. Plosa patiently and thoroughly answered my questions.  My mind is whirling with the huge amount of information I absorbed.
Henry was not the ordinary prisoner; nor am I the ordinary visitor. I've read and researched too much on the subject to go on a standard tour with 30 other people who know very little.  So at 4 pm we met our private tour guide and began the tour.  She too was extremely gracious, knowledgeable and helpful.
We finished up at Birkenau – at 7 pm – in the dark – in the cold – and Rick, Magda and I were the only people there. I feel privileged that doors continue to open for me on this journey (and also wishing I had packed gloves and heavy winter coat.) Henry was never in Birkenau – so I hadn't been as interested.  However, . . . the visit to Birkenau impresses on you the sheer enormity of scale of the operation. As each successive generation is further from this time period of history, it is imperative that this history not be lost.  And unlike the doomed 1.3 million who perished – we were able to exit, get in the car and leave.
(Photo of Henry Zguda, #39551 courtesy Auschwitz Museum.)